Award winners enjoy displaying certificates and trophies to let their client and suppliers know they have been recognized by the Marketing Effectiveness Award for their outstanding work.
Awards are customized with lettering and engraving.
The Summit Awards confirms winner status for all award purchases.
Marketing Effectiveness Award Granite Trophy
MEA-T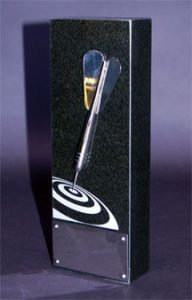 Laser-etched, black granite, stainless steel dart and custom-engraved plate.
Details:
1. Select the correct "ship to" and "commercial vs residential" using the pull-down menus. Not doing so will result in delayed ordering.
a. It is recommended to ship to a commercial address. The awards can not be held responsible for residential theft .
b. Off continent shipping, MUST Email for FedEx quote PRIOR to placing order. After quote, use LINK to pay S&H.
c. Award winners assume responsibility for their own country's/territories import duties and taxes.

2. Trophies take 6-8 weeks for manufacturing and customization. Delivery times vary depending on location.
Sample Inscription:
(Year) Summit Marketing Effectiveness Award (automatically added by the awards)
Winning Company Name
Winning Entry Name
Category Awarded
Client Name
Win Level (automatically added by the awards)
Note: Inscription line 0 will automatically read with year and award (eg. 2018 Summit Marketing Effectiveness Award.) Inscription line 5 will read with win level and award (eg. Silver Award)
$195 In stock
Year Won
Win Level
Entry# (if known)
*Shipping & Handling
Fed Ex Surcharge Fee
Inscription Line 1
Inscription Line 2
Inscription Line 3
Inscription Line 4
Add certificate same inscription None (0) 1 certificate (35) 2 certificates (70) 3 certificates (105)
Certificate postage None (0) US (3.5) Canada (5) Off-continent (7)